Adult Treatment
More and more adults today are seeking orthodontic treatment to improve their smile. In fact, about 25% of our patients are adults! We offer a full range of treatments specifically designed for adults – leaving you with a dramatically different smile and healthier bite.
Orthodontic treatment is performed to improve not only the appearance of your smile, but also the health of your teeth and gums as well. By seeking orthodontic treatment as an adult, you could avoid severe tooth decay, gum and bone loss, irregular wear of the tooth enamel, and TMJ/TMD pain.
Oftentimes, because adults usually are more compliant in their orthodontic treatment, their results turn out far greater than with a child and/or teen. By following the instructions provided by your orthodontist, you not only increase your chances for amazing results, but could also shorten your treatment time as well.
We offer a wide selection of braces to meet the individual needs and desires of each of our adult patients. From traditional metal braces and ceramic braces to clear aligners that can be worn to improve mild cases of misaligned teeth, we are confident we can help you achieve and maintain the beautiful, healthy smile you've always dreamed about.
Don't ever feel it's too late to enhance your smile. Schedule your free consultation today and let us help you start your journey to receiving a beautiful, straight smile!
Types of Braces
Braces are placed on the teeth, and their purpose is to hold the wire in place. Ordinary braces hold the wire with a small elastic band, what you usually see as a splash of color on each tooth. The problem with this method is each elastic band creates a point of friction, such that the wire can't slide side to side in the bracket freely, which actually inhibits ideal tooth movement. Our Pitts21 braces have a unique sliding door which passively holds the wire in place, so that instead of hindering movement like a friction-causing elastic system would, the wire is free to glide through the bracket. This allows teeth to straighten and align in a more comfortable and efficient manner. Such braces come at an extra cost, but we feel it's important to give our patients access to the best technology the industry can offer.
Invisalign®
These custom-made polymer trays are a wonderful alternative to braces. They've come a long way since first coming to the market in the early 2000s and can now effectively treat almost any bite issue or malalignment that braces can. Sometimes, they can even do it faster, but it really depends on the specific issue that's being treated, which will vary with each patient. We work with several aligner companies, including Invisalign, and really enjoy offering this option to our patients. We are excited to have an iTero 3D scanner in our office, which eliminates the need for messy impressions that would typically be part of the clear aligner process.
Retention
When we remove your braces, we will begin the retention stage of your treatment. The retention phase lasts for a minimum of 24 months. Your final orthodontic result depends on your retainers, so follow through with the hard work you've put in so far. However, remember to remove your retainer before brushing, and brush your retainer before placing it back in your mouth. We offer the following types of retainers:
Fixed Lingual Retainers
Bonded lingual retainers are cemented directly to the inside surface of your lower canines (eye teeth). This is one of the best ways to prevent your lower teeth from shifting as it is permanently attached! Patients with bonded lingual retainers must be careful with their bite as the bonding material may break due to incorrect biting and cause teeth to shift quickly. As with removable retainers, it is important to keep them clean. When brushing, make sure to carefully clean the inside of your lower teeth as well as the wire.
If your retainer breaks at any time during treatment, please do not adjust it yourself. Call us immediately to schedule an emergency appointment.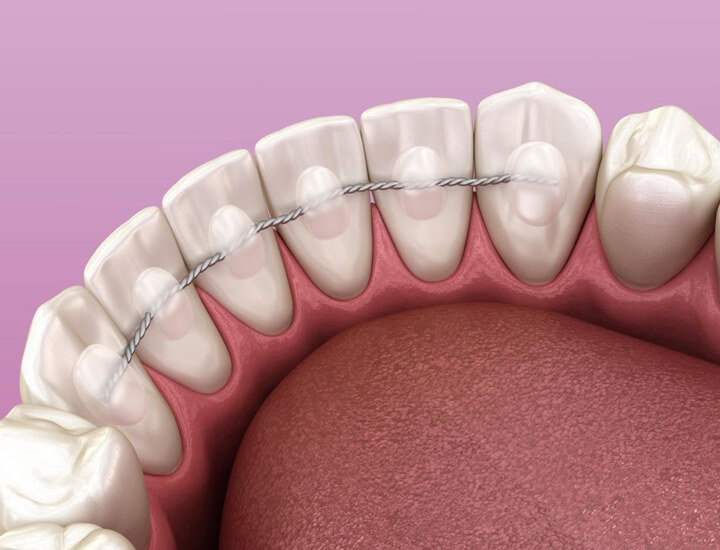 Active Lingual Retainers
An active lingual retainer is used to correct minor irregularities such as dental crowding after orthodontic treatment. With an active lingual retainer, adhesive is applied to the back side of the affected tooth and a nickel-titanium section is bonded to the surface. The adjacent tooth serves as anchorage and the opposite end of the section is bonded to it.
The benefits of using an active lingual retainer include that it can be used on patients of all ages, it is more comfortable than lingual brackets, it does not alter speech and it does not cause soft tissue pain.
Unplanned Visits (Emergency Appointments)
We understand that sometimes there are specific problems with braces that can lead to temporary discomfort which may need to be addressed as an emergency. Our guideline for an after-hours emergency visit is very simple: if it hurts, we will absolutely come in after hours or on the weekend and take care of you. Most things that might go wrong with your braces that aren't causing immediate pain can be addressed during the next business day. Make a call and we'll get things sorted out for you!